Wagashi expresses spring scenery of Sakura (Cherry Blossoms)
Do you know beautiful spring cherry blossoms loved by Japanese for a long time? I am pleased to introduce to you some beautiful wagashi that expresses spring cherry blossoms.
"Sakura", produced by Suetomi
A cherry blossom is called "sakura" in Japanese. This wagashi is named after a shape of sakura. The dough is made from a rice powder (grated yam powder or finer rice powder) is kneaded with the help of the stickiness of grated yam. The Suetomi shop is skilled at making yam dough. It has a rich flavor with a bit of Koshi-An(strained sweet bean paste) filling wrapped in the dough, which makes yam taste even more flavorful.
 Reference kyoto-suetomi.com/seasonal/summer.html
The wagashi expresses scenery of a shower of of falling cherry blossoms.
"Hana-fubuki (a shower of blossoms)", produced by Kobai
The pink and white colors represent a beautiful scenery of a shower of of falling cherry blossoms. It is an unbaked wagashi with sweet white bean paste kneaded with leaf of cherry leaf, and filling wrapped in moist mochi (rice cake). Its flavor is mild and the texture is amazingly-moist.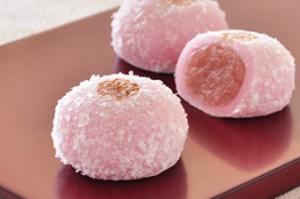 Reference kobai.jp/kisetsu_haru4/
"Sakura-mochi", produced by Akafuku
It is one of the most popular spring Japanese sweets among Japanese. The wagashi pink-colored mochi (rice cake) is wrapped in an anko (sweet red bean paste) at its center, and covered with a leaf of sakura. You can enjoy nice fragrance of sakura's leaf.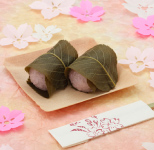 Reference akafuku.co.jp/product/tsuitachimochi/tsui04/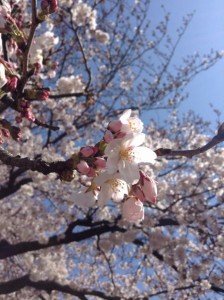 Other articles, Early summer wagashi