kaeru-Manjuu (Japanese sweet bun)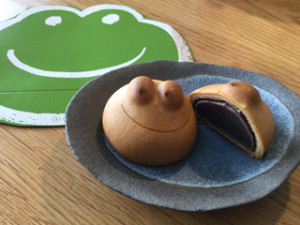 produced by Aoyagi ( wagashi shop of Nagoya)
Do you like frogs? This question may sound strange,but I know some girlfriends who are crazy about frogs. They collect small ornaments of frogs and frog-shaped small musical instruments,wear the T-shirt on which the illustration of a frog is drawn, attach the stuffed toys of the frog to their bags,and so on.
You can ask them a question:Why do you love frog goods so much? They may answer this way:Because they are so cute! And they are the symbols of good luck! I feel happy when I see them…
And you can ask them another question:Do you know Kaeru-Manjuu(Japanese sweet bun)?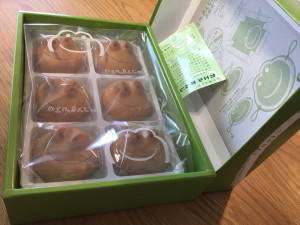 Do you like it? They will answer this:Of course I know it,and I love it! Not only them but also people who look at the Kaeru-Manjuu cannot help smiling at them-they are so cute and smiles so peacefully! It looks cute,and also it is really tasty. Koshian(bean jam) is fully put in the wrapping of dough. You may wonder if it is OK to eat this cute one! After you enjoy Kaeru-Manju,you can make the mask of the frog with the package. It may be another fun for children.