Pretz of Tokyo Baby Karinto is Like a Wagashi
Tokyo BABY Karinto is non fried PREZ produce sweetened with black syrup(dark molasses) to simulate the taste of karinto (dough cut into sticks, deep-fat fried and sweetened).
"This is good.I like it." My friend said so when he ate Tokyo BABY Karinto.
He likes karinto,and he loves karinto of the brown sugar taste in particular.
There are other so many types of karinto with various flavors.

Sesame seeds, honey,powdered green tea, powdered vegetables,buckwheat flour or peanuts may be mixed in the karinto dough. And there are various types of karinto with its category ranging from the so-called dagashi to the premium product.
"Is this different from real karinto?" "Oh is this not real one?  I did not notice that."
He thought that it was small , light and tasty karinto,but never thought it was made of Prez.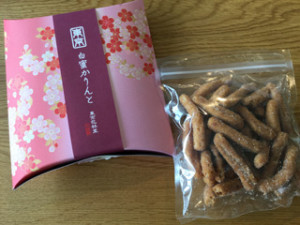 Example of real Karinto

I also ate it and enjoy the taste.There are some people who do not like karinto because it is too sweet. And real karinto  may be a little bit hard to bite for  some old people or small children.
But each piece of this Tokyo BABY Karinto is very small and not very hard.It has moderate sweetness. So people who does not like the really sweet taste of  karinto may enjoy this one.