Limited to Japanese Sweets of Solamachi shop of Tokyo Sky Tree Town
If you are a big fan of cute Japanese sweets, why not try "TOKYO SKY TREE TOWN® MIX" ? I can recommend it as a souvenir. As the store's name  "CANDY SHOW TIME" represents, candies are being made right in front of your eyes! in the shop! They lengthen a thick candy like a log ,and cut it small. We can try fresh candies, and buy various products of fresh confectionery which has been just put out at the shop. You'll definitely be impressed by how beautifully and skillfully the candies are made!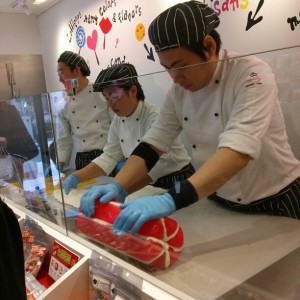 Reference http://retty.me/
These are original candies,"TOKYO SKY TREE TOWN® MIX"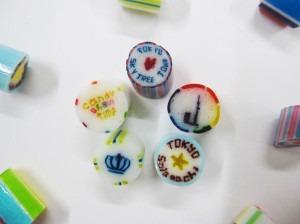 Reference candy-showtime.com/
There are 5 kinds of flavors;
・TOKYO SKYTREE TOWN Silhouette: blue apple flavor
・TOKYO SKYTREE TOWN♥ :strawberry flavor
・TOKYO Solamachi★:lemon flavor
・Candy show time:cola taste
・Logo mark :grape flavor
Here is a cute original package. It is a perfect souvenir.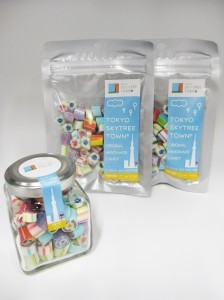 Reference candy-showtime.com/
Map: Candy-Showtime/ Solamachi
"TOKYO SKY TREE" 
The Tokyo Sky tree (a height of 634 meters) is a new broadcast television tower and landmark of Tokyo. It is the tallest building in Japan and is one of the most popular sightseeing spots in Tokyo.