"Kabuto-shaped Original Wagashi(Japanese style sweet)" 
May 5 is Children's Day. A family with a boy displays a Kabuto (Japanese helmet) in a house to pray for children's growth. I am pleased to introduce to you the unique sweets of Kabuto-shaped wagashi.
"Kabuto for children", produced by Sokindo
Can you believe this helmet is actually a wagashi?!
The main body is made with Matsuba bolo (the baked cake which contains sesame, buckwheat flour and is kneaded with egg yolk), and the horn part is monaka (wafers). The circle in the forehead is a fugashi (dried wheat gluten snack). The whole of this kabuto-shaped confectionery can be l eaten, except the blue-colored string. You can put it on a small child. Don't you think he looks like a brave boy?
Reference shokindo.co.jp/hpgen/HPB/entries/57.html
"Kabuto Mochi (Japanese sweet rice cake)" ,

produced by Satou
The mochi cloth (unbaked rice cake) wraps smooth sweet bean paste, and is folded in origami style (paper folding). Have a look – don't you think this helmet-shaped wagashi is lovely?  We can enjoy its moist elegant sweetness.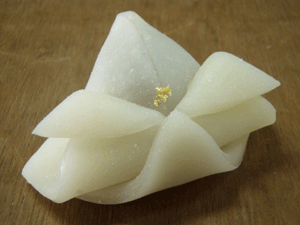 Reference atoya-matsubei.com/information.html
Here is a picture of real Kabuto (Japanese style helmet)!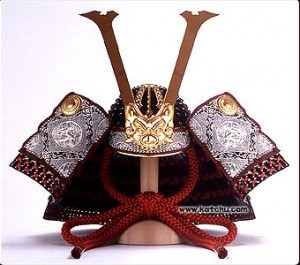 Reference seikatsujoho.com/post-1320/
There is a kabuto-shaped Japanese sweet cake, too.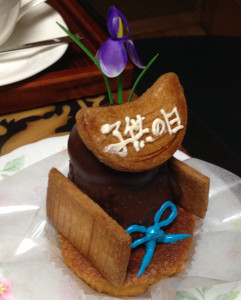 You can enjoy unique appearance of the kabuto-shaped sweet for a limited time only , so hurry if you haven't tried them yet!