Like colorful leaves and jewel box wagashi (Japanese style sweet)
It is like a jewel box of the Japanese sweets "Fukiyose".The combination of various kinds of assorted confections is called "Fukiyose". This confectionery resembles the state that colorful leaves were collected in one place by wind. They are beautiful in a visual sense and can keep good at normal temperature, so it is popular as a Japanese souvenir sweet.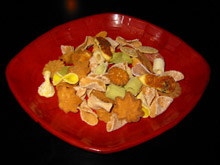 Reference  kyomachiya.net/tomo/kasi/05.html
Both the taste and the form are full of variety, higashi or rakugan (dry Japanese sweet), konpeito (toffee), rice cracker, okaki (kaki-mochi) and so on.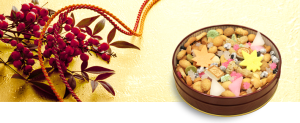 Reference  ginza-kikunoya.co.jp
We show you some popular Fukiyose-sweets. These products are in the high rank by the ranking of the wagashi's souvenir in a magazine.
"Chinmizoroi"
We can only sell only few numbers daily as it is a manual work.
Need reservations. They are an assort of the delicious dainty bits with more than 50 kinds from various parts of Japan.
Reference Chinmidou
"Syougetu Fukiyose"
Traditional shop specialized in Arare (cubic rice crackers) from Kyoto Gion.
They contain carefully selected materials as green string lettuce, citron,seaweed and so on. Colorful gorgeousness is popular.
Reference  Syougetu Fukiyose
"Ogurasansou"
Cute small form, the Arare in size for eating at a mouthful is popular.The sweets which featured the theme of a love story. You can conveniently choose your favorite mixture from various products.
Reference  ogurasansou.co.jp
"Kyoto Shikibunosato"
It is a stylish Japanese confectionery which is harmonized with a tradition and modishness. There are some original wagashi's products with citron taste, white caramel bitter taste and the winter white chocolate Arare.
Reference shikibunosato.com
The Christmas-limited product is popular, too.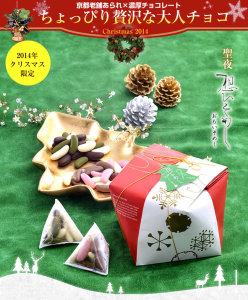 Reference shikibunosato.com
Wrapped up by Yushi