Wagashi of Using Unique Ingredients
"Namagashi" (unbaked soft confections) is a type of wagashi, and the Japanese cake using sweet bean paste. It doesn't keep long, but you can enjoy various combinations of bean paste and the dough to wrap it.
This time, let me introduce to you "Namagashi" using some unique ingredients other than beans.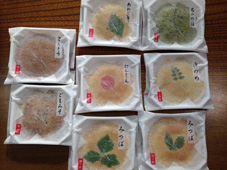 Their ingredients are chosen and treated carefully, and they are delicious.
"Miso(soybean paste) and sesame paste"

The dough has black sesame and miso in it, and mashed chestnut is wrapped.  Please take a look at this bite in this Japanese sweet !

It is used a white miso. It has a mild and slightly sweet of miso and you can enjoy taste miso.
"Carrot".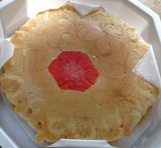 The red flower on the dough is made from carrot." It tastes good but needs more of a carrot taste. It sandwiches citron paste, so it also smells like citron jam flavor.

"Tea-leaf".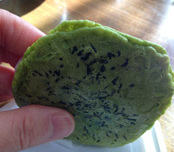 The dough has powdered green tea in it and is sprinkled with green tea leaf. The flavor of a sweet-green tea spreads in your mouth.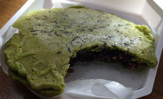 "Brown sugar"
The dough has brown sugar. Brown sugar contains a lot of minerals, vitamins, calcium, potassium, iron, sucrose and so on as the energy source. You can enjoy tasting it.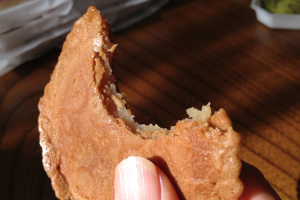 Notes.   Please pay much attention to mold.  Namagashi don't keep long.