Popular Wagashi of Various Japanese Kintsuba Sweets
You know what? "Kintsuba(confection of sword guard shaped) is one of the popular Japanese sweets.
This is the recipe of "Kintsuba": Make dough kneading wheat flour with water, divide the dough into small balls, wrap red bean paste with the dough, flatten the dough thinly shaping into a disc and fry the both sides of the dough in a greased frying pan. I'd like to introduce to you Kintsuba products ranked high in the shopping ranking of a magazine Fujingaho.
"Nishitani-dou" Kyoto  Gusdoe Kintsuba 12 pieces (in a bamboo basket)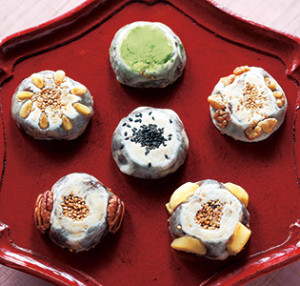 Reference   fujingaho.ringbell.co.jp/etc/tokusyu_kyoto_wagashi.php
It is well known as the Kintsuba with a lot of ingredients and gets much support particularly from students on school trips. This product contains assorted Kintsuba pieces such as black sesame, nuts and powdered green tea, and they are baked by hand.
The content of the assorted Kintsuba is as follows:
"Powdered green tea"- Moderate sweetness of mashed red bean paste harmonizes with bitterness of powdered green tea.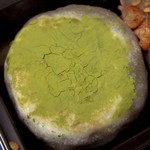 Reference  tabelog.com/kyoto
"Nuts" – Fragrant sesame harmonizes with rich flavor of nuts.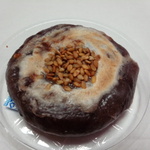 Reference  tabelog.com/kyoto
"Chestnuts" – The combination of big chestnuts and red bean paste is satisfying texture, but it isn't too sweet.  You can enjoy a melt-in-your-mouth sweetness.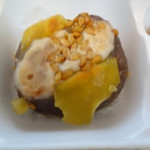 Reference  tabelog.com/kyoto
"Walnuts" – It creates the unique combination: sweetness of Kintsuba and bitterness of fragrant big walnuts.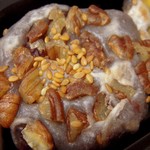 Reference  tabelog.com/kyoto
Notes.  When this common sweets are put in the stylish bamboo basket, they are transformed into upscale sweets.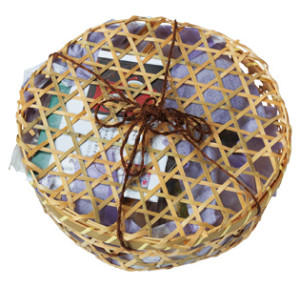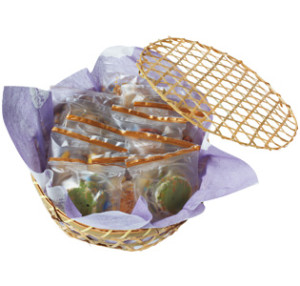 Reference   fujingaho.ringbell.co.jp/etc/tokusyu_kyoto_wagashi.php
Wrapped up by Yushi