Wagashi of Higashi, Dry Japanese Sweet Expresses as the Scenery of Beautiful Kyoto
How about this kind of Higashi (dry confections) from a traditional shop called "Ryuen." in Kyoto. They try to express the scenery and culture of Kyoto through their confectionery.
"Garden of Kyoto", produced by Ryuen
This higashi confection is named after a beautiful seasonal garden of Kyoto.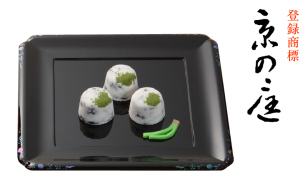 Reference  www.kyogashi-ryuen.jp
The colors represent a beautiful Japanese style garden with soft light and mossy stones.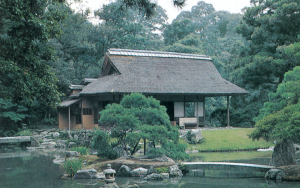 Reference  www.kyogashi-ryuen.jp
Ogura youkan (azuki-sweet bean jelly) with it's rich flavor is covered with Koshi-An(strained sweet bean paste). Then Yoshino Kuzu (arrowroot starch) and green tea powder are added as the final touch. Its flavor is mild and the texture is moist.
 "Shoufu (the wind through pine trees)", produced by Ryuen
These confections express and represent Japanese tea ceremony held during the cold winter months. Guests hear sound of boiling water in a teakettle and enjoy seeing the garden during the ceremony.

    Reference  www.kyogashi-ryuen.jp
The reddish brown color represents early winter, and the white color represents the frost on the pine needles on the ground in the morning.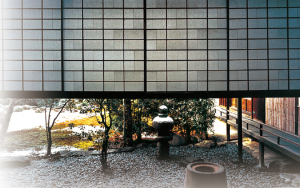 Reference  www.kyogashi-ryuen.jp
Notes.   How detailed and wonderful! We can learn about the culture of Kyoto from dry sweets from this traditional shop's products.
Wrapped up by Yushi