Assorted Wagashi Items; Higashi (Dry Japanese Sweet) Expresses the Early Spring of Niigata 
Higashi is part of wagashi (Japanese style sweets), made with sophisticated traditional Japanese techniques.
wagashi confectioners in each district in Japan produce their regional famous Higashi, using refined Japanese sugar.
Niigata prefecture is a snowy district abounding with nature and food from the sea and land. From a long-established shop in Niigata prefecture, I'd like to show you some assorted Higashi with a naturally sweet taste, representing early spring.
"Echinoyuki-Honpo-Yamatoya"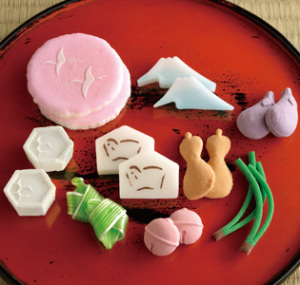 Reference   fujingaho.ringbell.co.jp
These are dry Japanese sweets for good luck, in the shape of sheep, gourds, Mount Fuji, cranes and so on.
They have two distinctive ingredients: Mochi-gome (sticky rice) from Niigata prefecture, the famous production center of rice, and the refined sugar from Tokushima prefecture. You can indulge yourself in the excellent flavors of the carefully selected ingredients.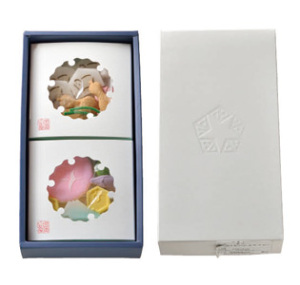 Reference   fujingaho.ringbell.co.jp
"Syougetsudou"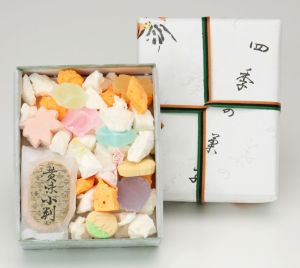 Reference niigataojiya.com/product/60
This dry confectionery set is a variety assortment including "oval gold coins", which is said to beckon luck with money, and "fractured ice", which represents early spring. When the bitterly cold weather softens in early spring, ice starts to fracture, hence its name.
Notes.  Niigata prefecture is one of the beautiful snowy districts in Japan. Niigata inhabitants are always longing for the spring.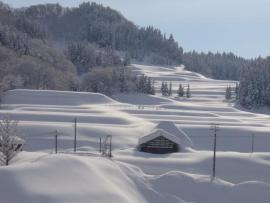 Reference niigata-kankou.or.jp
Wrapped up by Yushi