Japanese "Tiny Pretz (ちっちゃな プリッツ)" Sweet  of Limited to Okinawa District
"Tiny Pretz (ちっちゃな プリッツ) flavor with Okinawa brown sugar", produced by Glico
This is a small size biscuit stick "Pretz". Brown sugar from Okinawa is used and its rich sweetness works the final touch. It has a plain flavor and crisply texture. One box contains 6 small boxes, so it is perfect to give as a souvenir.

  Reference shop.glico.co.jp/gift-food/omiyage.html
Brown sugar of Okinawa contains a lot of minerals, vitamins, calcium, potassium, iron, sucrose and so on as the nutrition source.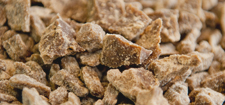 Reference   okinawa-kokuto.co.jp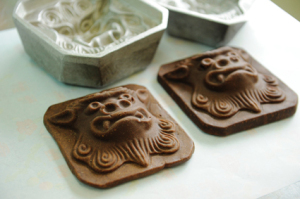 Reference   okinawa-kokuto.co.jp
Okinawa Shisa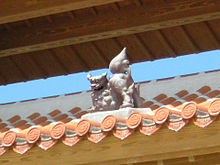 Reference  ja.wikipedia.org/wiki
Notes. You can enjoy a lot of beautiful scenery in Okinawa.  It is one of the most popular holiday destinations for Japanese.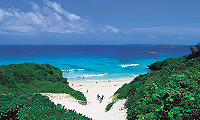 Reference okinawastory.jp/area/
Wrapped up by Yushi