How cool wagashi is! Delicate Higashi (Japanese dry sweet) 
Please join us to take a look at these beautiful delicate Higashi. These are thin dry confections made by "Gorou-Maruya" in Ishikawa prefecture.
Thin dry snacks : "T五." (5 pieces case)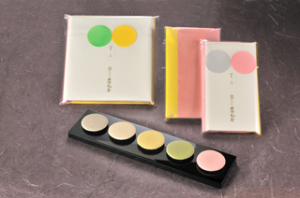 Reference  www.usugori.co.jp/shop
They are " thin dry confections" which melt in your mouth. Specially selected natural ingredients are used.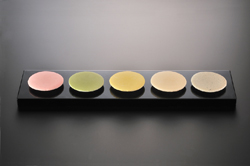 Reference  www.usugori.co.jp/shop
We can enjoy five flavors with different colors and tastes: cherry blossom (salty), powdered green tea (bitter), citron (sour), sesame (savoury) and refined sugar (sweet). The flavor of these thin dry snacks spread a soft taste faintly throughout your mouth.
Thinly frozen Higashi (dry Japanese sweet): "Usu-Gori."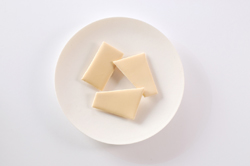 Reference  www.usugori.co.jp/shop
On cold mornings in February and March, you may see reminding snow in some areas disappearing and, instead, puddles and paddy fields surface still frozen. These confections resemble its beautiful landscape.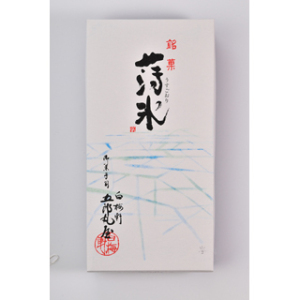 Reference  www.usugori.co.jp/shop
The thin rice confections are made from special rice grown in Toyama prefecture, and coated by a unique traditional method with high-quality refined sugar called "Wasanbon". Please let it melt in your mouth. It is a high-class confectionery which leaves a pleasant aftertaste.
Delicate dry Japanese sweet : "Ice pebbles"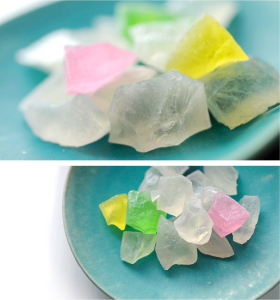 Reference shop.wagashi-murakami.com
It is a dry confectionery made by "Murakami" in Ishikawa prefecture. The main ingredients of this product are agar called "Kanten". It needs drying for six days, following a traditional recipe. It is crunchy on the outside and tastes silky inside. This confection is carefully hand-made and broken into pieces by craftsmen. Kanten dry Japanese sweets, melt in your mouth as softly as ice.
Notes. How cool! Once you try it, you can never forget their smooth, melting taste, and fragrance.
Wrapped up by Yushi