New Japanese Western-Style Sweet Using Nigata's Rice
Presenting Local Souvenirs of Niigata Prefecture
Let's take a look at local individual souvenirs Japanese western-style sweet of Niigata prefecture. You know what?  Take notice of simple but deep-flavored Japanese sweet made from rice produced in Niigata prefecture and local ingredients. Niigata is very famous for "Koshihikari" rice.
"Omusubi-Korori", produced by Le-poelon-bis
New rice Japanese sweet the third master of a long-established pastry shop created, taking advantage of the experience of training for making French confectionery. There are various tastes: sesame salt, Japanese ume plum and basil, ginger vanilla, Yakimusubi (toasted rice balls) and chokomusubi (chocolate rice balls) are novel tastes.
Reference le-poelon-bis.com/products/detail.php?product_id=5
"Hakugin (silver) Santa", produced by Gateausenka
People of all ages can eat the Japanese sweet easily and love as white dough made of rice powder is very soft. In addition, raspberry jam inside is a little sweet-sour and delicious.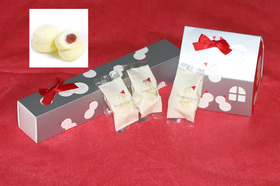 Reference gateausenka.jp/14/
"Nigata Mai Shu (Niigata's rice cream puff)" , produced by Gateausenka
The cream puff used Nigata's rice and baked it.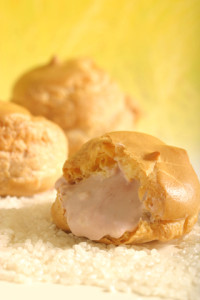 Reference gateausenka.jp/14/ 
"Salada hope", produced by Kameda- seika
Refreshing salt taste and crisp feeling is popular. Limited sale only in Niigata prefecture.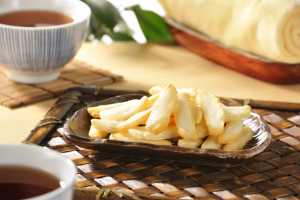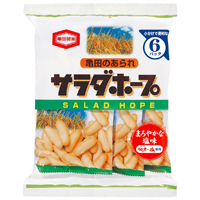 Reference .kameda-netshop.jp/SHOP/982884.htm
Baked Japanese sweet "Bandaidaiko", 
produced by Niigata Osakaya
Baked Japanese sweet with cream in the center of soft cookie baked in the form of annual rings.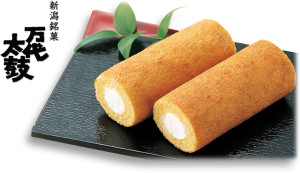 Reference  niigata-osakaya.com/gift/shohin/bandaidaiko.php
Other articles  Wagashi of Nigata