"Pretz(プリッツ)" and "Giant Pokey(ジャイアント ポッキー)", Limited to Fukuoka City, Kyushu 
"Giant Pokey" is a big pretzel-like stick which is approximately 21 cm long. Local food of  Fukuoka region are used, so we can enjoy fresh and unique taste.
"Giant Pockey with Hiyoko cream flavor"
You know what? One of the Japanese confections,named "Hiyoko" has its origin in Fukuoka prefecture and has been loved for more than 100 years in Japan. This biscuit stick "Pocky" contains cream which can evoke the image of Hiyoko when you taste it. White sweet bean jam and cookies are mixed with the dough.

Reference shop.glico.co.jp/gift-food/omiyage.html
Here is a Hiyoko (ひよ子) Japanese sweet. It resembles the form of a chick.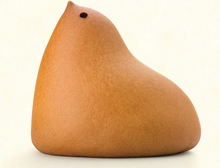 Reference  hiyoko.co.jp/hiyoko
­
 "Giant Pretz with Hakata-brand Mentaiko(S

picy

C

aviar

) Taste" ( 
Mentaiko is salted cod roe 'caviar' spiced with red pepper)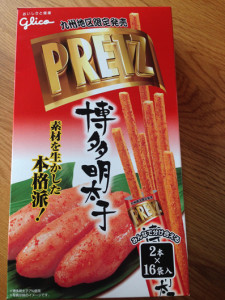 10% of its weight in the dough contains Mentaiko from Fukuoka prefecture.
It is the most popular Pretz in the local souvenir ranking of Glico's snacks.
You can enjoy two different tastes at once, the Metaiko's fresh taste and spicy taste.
Not only is it eaten alone, but is the best snack of nibbles for drinks.
"A little Pretz with Marutai Ramen taste"

Reference shop.glico.co.jp/gift-food/omiyage.html
Fukuoka origin "Marutai Ramen" is one of the representative stick-type ramen noodles in Japan. This Pretz reproduces the plain soy sauce taste.
It's package is similar to that of "Marutai Ramen".
When you want to eat ramen, it sure is good!
 Notes.  Daddy often eats Marutai ramen at night, it is the best for a midnight snack.
Wrapped up by Yushi