Higashi (Japanese dry sweet) of high rating wagashi in famous Japanese magazine 
I will introduce interesting-shaped confections to you which receive a high rating in a magazine(Brutus). Magazine(Brutus) has introduced stylish life style of Japan. This time, they pick up the products of popular and fashionable wagashi, food and so on. I think that higashi is one of the most beautiful wagashi (Japanese style sweets) in Japan.
"Monet"
Reference shop.ricordi-sfera.com
The higashi, dry confectins are designed in the motif of "Lotus Flowers" by Claude Monet, a painter. The sweets are a joint production of the architect unit CKR in Sweden and a sweets shop. There are plane flavor and green tea flavor.
"UCHU drawing"
Not only you can eat, but also can play as a puzzle. There are cocoa flavor and vanilla flavor. The cute shape is popular among children.
"Takarapochibukuro (Treasure tip bag)"
Reference  kameya-yoshinaga.com
The sweets are shaped like coins or treasures, and they bring good luck. After having eaten Higashi,you can enjoy using the bag as an accessory case. Five kinds of textile express four seasons in Japan.
"Nogiku (Wild chrysanthemum)"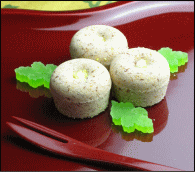 Reference  kyoto-kagiya.co.jp
When the previous owner went trip to Morocco,he invented Nogiku sweets from Mediterranean almond. When you put the lovely higashi  in your mouth, it crumbs like sand and nice fragrance spreads.
"Ocyoma"
Reference  kyoto-wel.com
Pretty bell-shaped small Higashi whose top has a deep red dimple. Wasanbon (refined sugar made from sugarcane in Japan) is used for Higashi. It melts quickly in the mouth with flavorful sweetness.