Background of  Wagashi (Japanese style sweet)
I am pleased to introduce to you some delicious and popular local  souvenirs of wagashi, using local specialty. The prefecture is also rich in abundant varieties of foods including high-quality Wagyu, fruits such as strawberry and pear, rice, traditional vegetables, and edible wild plants. The prefecture has an extensive plain from the pacific coast toward the foot of Ou Mountains and rich nature remains in the prefecture.
Presenting Wagashi (Japanese style sweet) of Miyagi Local Souvenirs 
"Hagino – Tuki ",  produced by Sanzen
It is one of the classic Sendai wagashi(Japanese style sweets). Original custard cream is generously hidden in high-quality sponge cake.
"Zunda- Mochi", local Japanese sweet of Miyagi prefecture
Delicious green-colored rice cake covered with sweet soybean paste suitable as both meal and snack.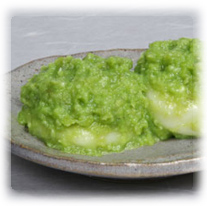 Reference  zundamochi.jp/hpgen/HPB/entries/1.html
"Kikufuku- Daifuku", produced by Ocha-Igeta
A soft and round rice cake filled with light-textured cream and strained sweet bean paste with supple texture. In addition to standard flavors of plain, green tea, roasted tea, and Zunda, seasonal flavors including strawberry, blueberry cheese, and tomato are available.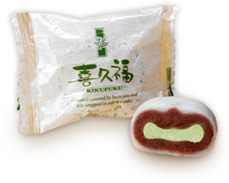 Reference  ocha-igeta.co.jp/products/sweets.html
"Sekurayaki", produced by Fujiya-Senshu
A half-Japanese, half-western sweet where sweet white bean paste with crushed walnuts is covered with fragrant dough rich in butter and egg . A typical Miyagi home-made Japanese sweet with mild sweetness.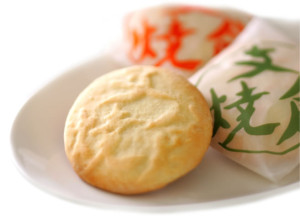 Reference  fujiya-senshu.co.jp/hasekura/hasekura.html
"Shiromatu ga Monaka", produced by Shiromatu ga Monaka Honpo
A crispy waffle of Japanese style sweet richly filled with bean paste. Four flavors including chestnut, sweet red bean, sesame, and kidney beans are available. Japanese waffles lined packed beautifully in a box makes an ideal gift.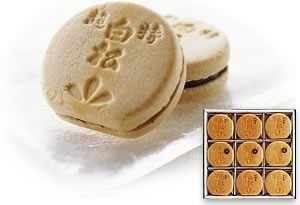 Reference  /www.monaka.jp/
"Sendai Ubeshi ", produced by Kansendo
Soy sauce, not citron, flavored sweet rice cake mixed with walnuts. Springy and crispy texture will make all the people happy. Mouth-filling rich flavor of sesame powder can be enjoyed.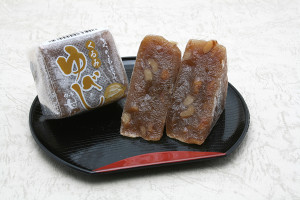 Reference  www.kansendo.co.jp/shopping.php
Excellent wagashi
"Simobashira", produced by Kokonoe-Honpo
Entirely hand made by expert candy craftsmen. Sparkling thin candy hidden in Rakugan powder (rice starch flour). A fun confectionery reminiscent of frost crystals dug out of snow. A seasonal product available only between October to April.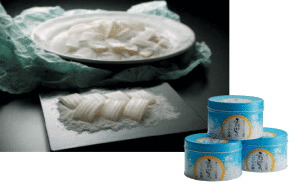 Reference  tamazawa.jp/body_products_shimobashira.html