Background of Japanese Sweet 
Maybe, you can find individual local souvenirs (Japanese Western-style sweet) which are influenced by the local cuisines and ingredients. The local specialty is Wanko soba, Maesawa beef, and the cold noodles and shabu shabu noodles are also delicious.
Did you know that Iwate prefecture is the second largest after Hokkaido and have  "Ryusendo Cave"chosen in the "Selected 100 Exquisite and Well-Conserved Waters"? The sightseeing spot "Ryusendo Cave", with a total length estimated to be over 2.5 kilometers to 5 kilometers, is famous.The water of the Ryusendo Caves is renowned for its extraordinary transparency.
Presenting Japanese Western-style Sweet of Iwate Prefecture Local Souvenirs 
"Nama Nanbu Sable", produced by Iwateya
The delicacy of chocolate inside a moist, raw sable. It is one of the most popular souvenirs in Iwate prefecture.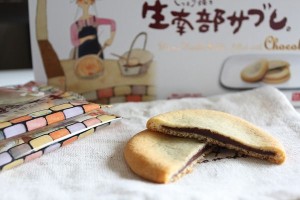 Reference ukipal.jp/kitakona/list/nama.html
"Koiwai Farm cookie" , produced by Koiwai Farm
Koiwai Farm is the representative tourist resort in Iwate prefecture.These sweets are made using wheat flour harvested at the farm, fresh eggs and one cup of fermented butter. One can enjoy the taste of the savory and natural ingredients.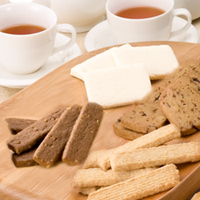 Reference koiwai.co.jp/makiba/shohin/2013/01/post-49.html
"Ishiwari Sakura" , produced by Marufuji
Famous Japanese sweet of Morioka city.  A delicious cream inserted between round, thinly fried rice crackers made using plenty of condensed milk and chicken eggs. You can enjoy eating 3 kinds taste: melon, vanilla and chocolate.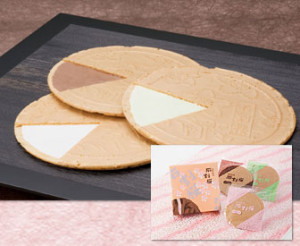 Reference www.morioka-marufuji.co.jp/products/
"Ika Senbei (Squid cracker)" , produced by Sugata
Japanese common squid from Sanriku is used as a raw ingredient. A characteristic of this rice cracker is the taste of the squid and the flavor of the seashore spreading from its sweetness. Rice crackers like the dried squid, the more it is chewed, the tastier it becomes.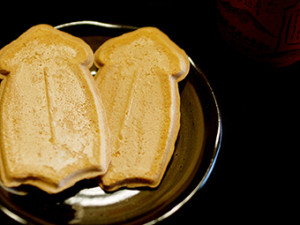 Reference /sugata-ikasenbei.com/