Presenting Akita Prefecture Local Souvenirs of Japanese Sweet
Did you know that Akita prefecture is a prominent rice and liquor producing area in Tohoku district. Let's take a look at local popular souvenirs of Japanese western-style sweet.
"Butter Mochi (rice cake)", local Japanese sweet of north Akita city
Sprung into fame after being presented on TV. A home-made dish handed down in "Matagi no Sato", Kita-Akita City. The butter's flavor and the soft texture enjoy popularity. An unusual rice cake that does not harden even if taken out on a cold winter day or cooled. A local sweet that the hunting people of Matagi ate as preserved food during winter.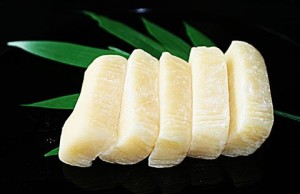 Reference  ani-akibayashi.com/?pid=42571360
"Ice Butter Mochi (rice cake)", local Japanese sweet of north Akita city
Recommended among the butter rice cakes is the "ice butter rice cake." After thawing for about 5 minutes at room temperature it becomes a cold, stretchy rice cake. Lightly sweetened by mixing butter, sugar and eggs. The soft texture of the rice cake becomes irresistible.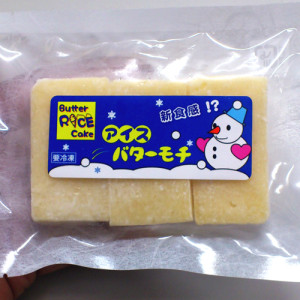 Reference .cook3.com/cook3skyb/7.1/R1-02-0010/
"Baba  Hera Ice", produced by Shindou-reika
A popular ice cream that any person from Akita eats at least once. When driving in Akita during summer, it is sold under parasols on the roadsides. Middle-aged women (grannie),called "Baba", scoops ice cream with a spatula arranging it in the shape of a flower on the cone.  Strawberry and banana taste soft sherbet ice cream are popular sweets among Akita people.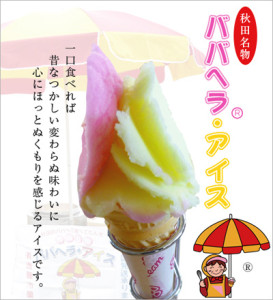 Reference /babahera.net/?page_id=2
"Pure and rich custard cream puff" , produced by Tamagonoki
For the "pure and rich custard cream puff", which is made by the egg store selling directly the chicken farm products, the custard is filled in after ordering. The skin hot from the oven is crispy, is a perfect match with the dense custard. The "double cream puff" with fresh cream on top of the custard cream is also popular.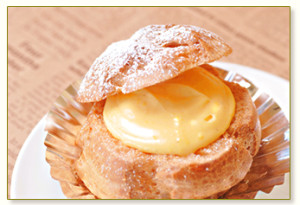 Reference tamagonoki.jp/product/index.html#prd_okasi