Japanese Sweet of Limited in the Tohoku District
Did you know that locally limited "KitKat (キットカット)" are available only in each region? They are sold at each local main airport, station, service area in highway, and stand at a sightseeing spot.  "KitKat Zunda flavor" is sold only in Tohoku district.
" KitKat Green Soybean (Zunda)  Flavor", Tohoku region limited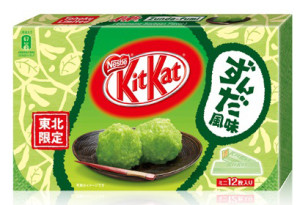 Reference  d.nestle.jp
It has a simple flavor of green soybean which is a specialty in Miyagi prefecture. Zunda means local dishes of the Tohoku district using a green soybean. The taste is crunchy and crispy palate feeling while leaving flavor originated from soybean. You can enjoy eating a new sensational chocolate taste and rice cake aroma
After 2011 eastern Japan great earthquake disaster, Nestle Japan released it on May 23, 2011. It is included a contribution of 10 yen per 1 product (136 yen) in a product price. The contribution was donated to the Japanese Red Cross Society.