Background of Wagashi
Aomori's famous products are apples. I am pleased to introduced some delicious local  Souvenirs "Nippon Wagashi confectionery" using apple. In the prefecture's apple experiment stations there are about 300 varieties of apples, about 50 varieties being cultivated within the prefecture and about 40 varieties shipped to the market.
Presenting Aomori Prefecture Local Souvenirs of Wagashi
"Usukurenai (light pink)", produced by Okinaya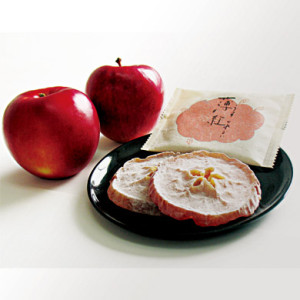 Rreference shop.a-okinaya.co.jp/?pid=59892912
Excellent Japanese sweet has been loved by the Aomori people for a long time. Aomori Jonathan apples cut in round slices, boiled with sugar and dried. The Jonathan apples have a strong fragrance and sourness, a variety indispensable to cakes and food.
"Kiseki no Ringo (Miraculous apple) Karinto", produced by Restaurant Yamasaki
Rreference r-yamazaki.com/?pid=12095437

The apple farm Akinori Kimura in Aomori prefecture is famous for being the first to successfully do what was said to be impossible – pesticide-free apple cultivation. The apple he cultivates are said to be miraculous apples. Crunchy Karinto containing the whole naturally harvested apple including the pulp, skin and seeds.
"Garlic rice cracker", produced by Ragueneau Sasaki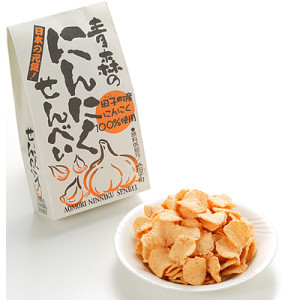 Rreference  store.shopping.yahoo.co.jp/rag-s/292028.html
Crisply fried shrimp rice crackers with pure garlic from Takko-machi, Aomori. It is Japan's number one producer of garlic. Above all, the Takko-machi garlic is known for the large bulb, strong sweetness and good quality. The fragrant shrimps and the garlic create an exquisite taste.