Popular Wagashi of Toyako Hot Spring
"Toyako (Toya Lake)" is  beautiful landscape chosen as part of "The 100 Most Beautiful Historic Landscapes in Japan". Toyako Hot Spring's famous Japanese souvenir sweet whose taste becomes addictive.
"Wakasaimo"  produced by Wakasaimo-honpo
It presents "baked sweet potato" in Hokkaido where people don't cultivate sweet potatoes. This is the first confectionery that used soya sauce in Japan. It used the main material of large parched beans around Lake Toya, and made sweet An (bean jam) without using a potato, and enter the line of the potato with small kombu(kelp), it-colored egg soy sauce and bake it.
This is a method to bake a kind of bean paste lump without bean made from the Daifukumame bean coming from Touyakoarea inserting chopped kelps to simulate fibers of sweet potato and coated with egg and oil.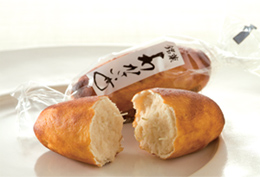 Reference  www.wakasaimo.com/id_005.html
The color of the deeply baked sweet gives an image of a baked sweet potato. The wagashi product has its surface gently burnt with sweet soy sauce, and contains daifuku-beans mixed with white bean paste and kelp. A sweet, salty taste.