Background of Japanese Sweets 
Hakodate city is the approximately five million people visit this most popular sightseeing spot in Hokkaido area annually. It is a stylish town that  beautiful night view and traditional city landscape are popular. I 'd like to introduce the popular Japanese sweet's souvenir of such a stylish town.
Gotoken is one of the old established western style restaurant in Hakodate city. It is good at French and Russian cuisine , and attracts the sweets such as Belgian chocolate cake and Mille Fe, apple pie and so on.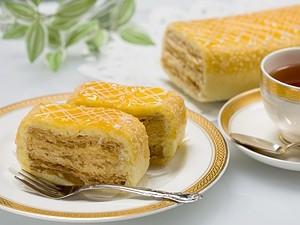 Reference  shopping.hakonavi.ne.jp/gotoken/sweets/mille-fe.html
Mille Fe means one thousand leaves. Many layers of raw-butter-flavored pies wrapped with white chocolate. Two types of sweet chocolate. The sensation of the crisp pies and cream is superb.
"Cheese omelette", produced by  Pastry Snaffles
These confections is one of the popular product (series Catchcakes )of this shop. The souffle cake uses abundant local ingredients of  Hokkaido prefecture. You can't stop eating this delicious small cheese souffle.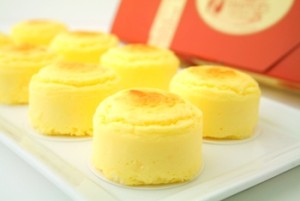 Reference  www.snaffles.jp