Japanese Sweet Takoyaki – shaped 
"Panjyuu" is one of the most popular Japanese sweets in Otaru City, Hokkaido. With the appearance of takoyaki, the chocolates come with strained bean paste, whole beans paste, white whole bean paste, rice cake bean paste, cream, and chocolate inside. It is tempting to taste all of them. These are individual Japanese sweets.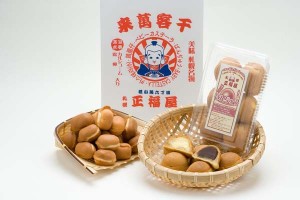 Reference  shofukuya.hp.gogo.jp/pc/
It became popular around 1955 as a snack for coal miners and dock workers. They are baked by pouring dough on an iron plate with some spherical recesses bigger than those for Takoyaki (octopus dumplings) and adding some bean paste; a special characteristic of them that they are not turned over like octopus dumplings.
Reference  shofukuya.hp.gogo.jp/pc/free3.html
"Hanazono Dango"  Produced by Niikuraya in Otaru
You can enjoy 5 kinds Dango (sweet rice dumpling) taste: Black An(Bean jam), white An, powdered green tea An, sesame, soy sauce.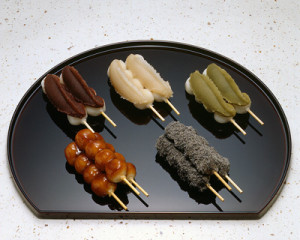 Reference   niikuraya.com/otarusweets/#dango