Wagashi (Japanese Style Sweet) and Japanese Western Style Sweets 
'Ibaraki, Tochigi, Gunma, Saitama, Tokyo, Chiba, and Kanagawa' Display
I am pleased to introduce to you "Kanto region local Souvenirs of (Wagashi or Japanese western style  sweet) in Japan. Kantō district is located in the Honshu section, main island of Japan and is comprised of  7 prefectures, namely, Ibaraki, Tochigi, Gunma, Saitama, Tokyo, Chiba, and Kanagawa.
Kanto region which holds the capital of Japan, Tokyo is the political and economic center of Japan. One-third of Japanese population is concentrated in this area.
Souvenirs of Kanto region are characterized by the variety of processed products and the region has abundant varieties of souvenirs ranging from western style sweet, traditional Japanese style sweet to crackers.
 "Wagashi or Japanese sweet's background of Ibaraki prefecture"
"Kairakuen" in Mito City, Ibaraki prefecture is one of the tree most famous parks in Japan. The other two are Kenrokuen in Kanazawa and Korakuen in Okayama. The park is known for the magnificent cherry trees. Famous for Natto, fermented soybeans and Umeshu, plum wine. The prefecture is the largest producer of melon in Japan.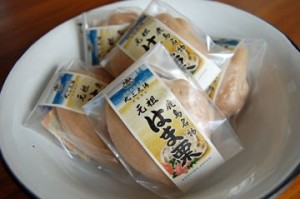 Reference yutari.jp/blog/Yamepi/Otsukaimono/bYO130301.htm
 "Wagashi or Japanese sweet's background of Tochigi prefecture"
Tochigi is an inland prefecture with no open ocean and boasts agriculture, dairy and livestock industries. Famous for "Tochiotome" strawberry and dried gourd shavings. World famous tourist spot, "Nikko Toshogu", hot spring area, "Kinugawa". Utsunomiya, a city famous for Gyoza dumplings is also attractive.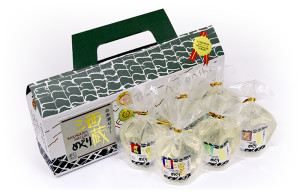 Reference  tochigi-brand.jp/brand/page.php?id=22
 "Wagashi or Japanese sweet's background of Gunma prefecture"
Gunma produces the greatest amount of konjac in Japan.Climatic with characteristics of severe difference between the cold and warm produces many unique local products including Udon noodle, vegetables and Japanese pickles. The prefecture is full of hot springs and Kusatsu and Minakami especially are representative of Japanese hot spring. Oze is a mine of precious animals and plants and Tomioka Silk Mill, a world heritage site, is also popular among tourists.

Reference shop.gateaufesta-harada.com/shop/c/croi/