Presenting Onomichi city, Hiroshima Prefecture Local Souvenirs of Japanese Sweets
Please join us take a look at  some popular souvenirs of Japanese traditional style confections (Nippon Wagashi confectionery shop) of Onomichi city Hiroshima prefecture.
"Seto Komachi",  produced by Nishikido
Sold by Nishikido, famous for its Momiji-Manju. It was developed jointly by Hiroshima University and Onomichi City, using a whole Oosakikamijima lemon. A white rice cake wrapping, lemon jelly with lemon peels is stuffed in moist dough. Bitterness in sweet taste and fruit are tasty.
Reference www.mite-mite.info/
"Hassaku Nama Dorayaki",  produced by Hakuaido
Hakuaido is popular for its Japanese sweet made with Hassaku orange and this Dorayaki, a bean paste pancake, offers an unexpected combination of ingredients. Its refreshing aftertaste is that of western style Japanese sweet, rather than traditional Japanese sweets. If you get tired of ordinary Dorayaki, try this.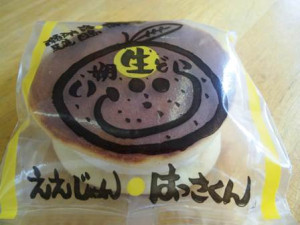 Reference /onmac2004.exblog.jp/12948343
"Hassaku Daifuku" ,produced by Shofukutei
This is a signature confectionery in Onomichi. A Daifuku made with Gyuhi, which wraps Hassaku orange fruit and bean paste; characteristic refreshing taste. Juicy, enough bitterness of Hassaku, right sweetness of Gyuhi and bean paste; the harmony is exquisite. Enjoy comparing the tastes of white bean paste and red bean paste.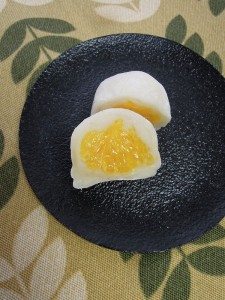 Reference blog.livedoor.jp/oisiidaisuki/archives/cat_50011180.html?p=2
Other articles, Japanese sweets of Chugoku regional