Background of Ehime prefecture's Wagashi
I 'd like to introduce to you some popular souvenirs of Japanese traditional style sweets of Ehime prefecture. Did you know the Matsuyama city, Ehime prefecture is one of the historic sightseeing spot in Japan? The tourist resort  is "Dougo Onsen" spring in Matsuyama City, the major stage of Bochan, a novel by a Japanese great writer Natume Souseki.
Presentation of Popular Wagashi  
"Ichiroku Tart" , produced by Ichiroku Honpo
Everyone knows "Ichiroku Tart" in Matsuyama; a popular wagashi soft sponge, which rolls around strained bean paste with Yuzu taste. Ichiroku Tart is a historical sweet of Ichiroku Honpo, established in the Meiji Era, brought from Nagasaki by Load MATSUDAIRA Sadayuki.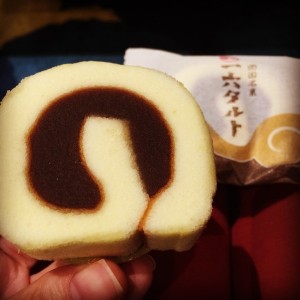 Reference  find-travel.jp/article/1609
"Onkuri Tart", produced by Hatada
Ehime is famous for Kuri Tart, along with Ichiroku Tart and Rokujiya Tart.  Refined taste, with a big chestnut in Yuzu(citron) kneaded sweet bean paste.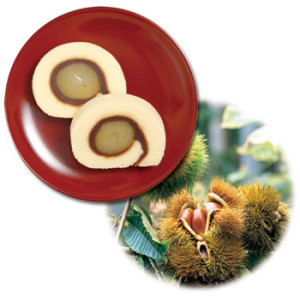 Reference www.hatada.co.jp/product.html
"Bochan Dango" , produced by Utuboya
One of Matsuyama City's famous Japanese sweet comes from Bochan, a novel by NATSUME Souseki. Rice cakes in three kinds of bean pastes: green tea, yellow and Azuki.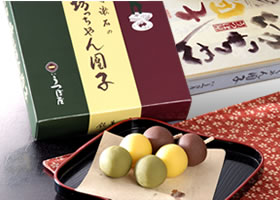 Reference www.utuboya.co.jp/menu.html
"Tsuru no ko" , produced by Nishioka Kashiho
Yellow cream, which looks like an egg yolk, fills a shell like marshmallow made from egg white and gelatin. A hallmark of Nishioka Kashiho standing in a quiet old ally; made by a traditional method using selected ingredients.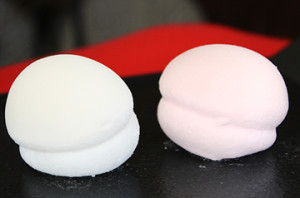 Reference www.dandanmatsuyama.com/food/tsurunoko.php
"Warabimochi" , produced by Hanakawadou
One of the few shops in Japan who use real bracken powder and sugar of sugarcane to make real "Warabimochi (bracken-starch dumpling)." Melting texture, and full-bodied honey and roasted soybean flour make a harmony. Hanakawadou, established 140 years ago, has and will have been keeping traditional making method and taste.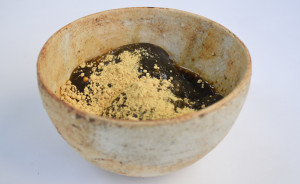 Reference www.setouchi-matsuyama.com/12836/
Other articles, Popular wagashi