I am pleased to introduce to you some popular souvenirs of Japanese traditional style sweets of Tokushima prefecture in Japan.
Presentation of Wagashi of Tokushima 
"Naruto Manju"  produced by Narutodo
An old establishment back in 1875. A famous confectionery, an Honorary Gold Medal awarded. Sugar coated baked Manju (sweet bun), plain taste not too sweet. The sugar indicates the crest of a wave or salt. Keeps well since it uses salt.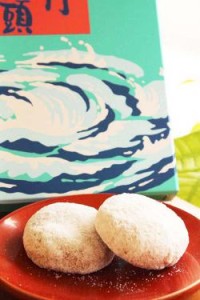 Reference  naruto-mon.jp/gourmet/narutodou/
"Hitokuchimanju" (One bite Manju) , produced by Matsunoshita Ishikawa Kashiten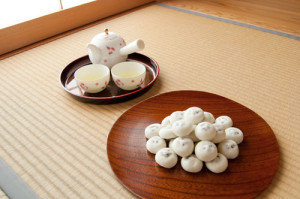 Reference  hitokuchimanju.jp/03hitokuchimanju.html
A signature hot item of old established confectioner Matsunoshita Ishikawa Kashiten, established in 1919. One bite sized traditional plain taste Manju(bun with a sweet bean-jam filling).
"Nadai Anmaki Roll",  produced by Kotoraya
Reference  www.kotoraya.jp/item/4/
Representative sweet of Kotoraya. A sponge baked fully softly with Awa Sanbon-to (refined sugar) and rich eggs of open space breeding chickens rolls a high quality sweet azuki bean paste. Awarded a "Technical Merit" at the National Confectionery Exposition in 1994 and the "Honorary President Award" in 2008.  Lightly sweetened refined taste.
Other articles, Popular local Japanese sweet of Shikoku