Tokyo Station ! Let's find nice souvenir of wagashi or Japanese sweet!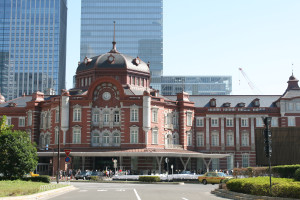 "Tokyo An-pan,Tokyo brick bun pack"
Reference  tokyostaioncity.com
"Imuraya  Syoufuku (good luck charm)Yokan (azuki-bean jelly) , terminal building on the Tokyo station"
Reference  news.walkerplus.com
Tokyo station celebrated its 100th anniversary in December, 2014. Do you know about the trouble involving the shortage of "100th anniversary commemorative Suica cards (transit passes)" East Japan Railway Co, in Japan? Many people want to get Tokyo station 100th anniversary Suica cards.This package is printed with the fashionable Tokyo Station, and you can enjoy it as a commemorative souvenir after eating, and you don't need to buy the Suica cards. You can get another Tokyo Station-shaped original package.
"Tokyo Station of the 100th anniversary premium print sable"
These are nice full-color print sables for the 100th anniversary of Tokyo Station.
Reference   tokyostaioncity.com
Notes.  If you want to buy special souvenirs in Tokyo, you can't miss these, because the Japanese especially love historical Tokyo station.