Wagashi Made Using High-quality Matcha
Sweet red bean soup made with sweet Azuki beans and matcha (powdered green tea), Delicious with the rich taste and aroma of green tea when served cold or warm.
Matcha Zenzai , produced by "Higashiyama-Karyo in Kyoto"
This wagashi (Japanese style sweet) is using only Uji powdered green tea ground with a stone mill brings out a pleasant rich taste similar to a weak infusion of powdered green tea in Japan.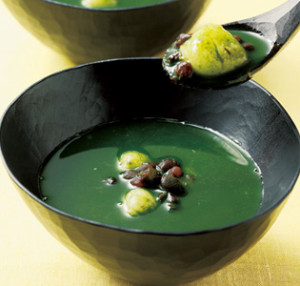 Reference   http://fujingaho.ringbell.co.jp/
The bean paste and rice-flour dumplings are in harmony together. Upon getting the frozen red bean soup, first, defrost it at room temperature. The cold red bean soup can be served as it is. For a warm red bean soup, take off the lid and heat up in a microwave oven at 500W for about one minute.
Reference   http://fujingaho.ringbell.co.jp/