"Petit crepe nama yatsuhashi"

  Kyoto wagashi (Japanese style sweet)
Hi, everyone!  Do you know "yatsuhashi( 八つ橋)"?
Yatsuyashi is known as one of the best souvenir from Kyoto. It's popular not only for Japanese but also for foreigners. In fact, Kyoto tourist information center said 45.6% of the tourists in Kyoto has bought yatsuhashi!! If you go to a souvenir shop in Kyoto, you would be surprised to see a number of kinds of yatsuhashi which have a lot of flavors at different shops.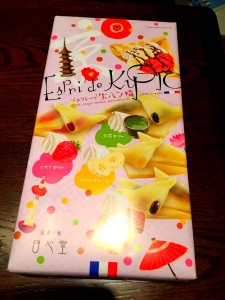 Today, I'll introduce you "petit crepe nama yatsuhashi". This is from hakushimadou one of the famous yatsuhashi shops. A pack has 12 pieces and 4 flavors: maccha jelly, banana cream, strawberry jelly, and chocolate cream. The most recommended flavor is chocolate cream. The cream is runner ! If you have a chance to buy, just try it once! But you have to be careful when you take it out. In my case, this yatsuhashi stuck together in the box, because it is so soft and easy to stick another one.
Anyway, try to find yatsuhashi with your favorite flavors:)