The Doraemon's Japanese sweets are popular among people of all ages
Did you know the popular cartoon characters appear in Pocky? The Pocky collaborated with Blue-color design. "Pocky happy assort" of original okashi which symbolized Doraemon was launched from Glico on July , 2014, but its sale already ended at the end of November, 2014. I hope this limited-quantity confection will be revived in the near future.­
Japanese sweet "Pocky happy assort Doraemon"

,
produced by Glico
It contains Pocky with 3 kinds of  flavors ; dorayaki, strawberry and cream cookie.  Cream cookie taste  is a cocoa pretzel which is coated with white cream containing cocoa cookie crunches.  Strawberry taste is light pink color and flavor of a sweet-sour strawberry spreads in your mouth. Dorayaki taste is a favorite okashi of Doraemon.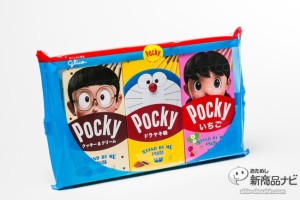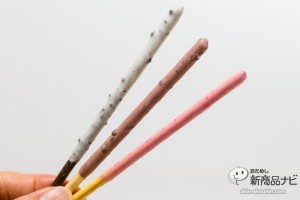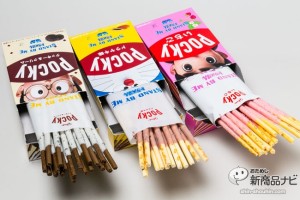 Reference  news.ameba.jp/20140805-338/
The Doraemon cartoon is popular among people of all ages both in and out of Japan. So, this okashi was popular and it was all sold out immediately.